About Lowlands 2008 - 2018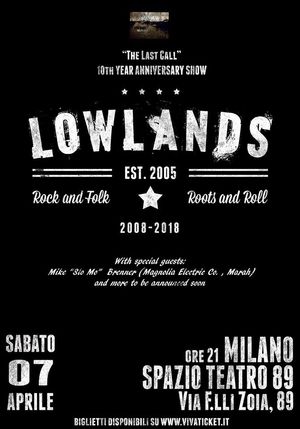 On april 7th, 2018, ten years after releasing their Debut Record and 14 years since forming, Lowlands decided to stop recording and touring as a band with a sold out show in Milan's Spazio Teatro 89.
Once described by  Uk Magazine R2 as "one of Europe's finest roots rock bands",  Lowlands played as far and wide as possible: from Galway to Stockholm, from London to Rome. Playing bars, clubs, theatres, pavements, markets, squares, jails and even a church and a  castle too.
They played some great venues like Whelans in Dublin, The Roisin Dubh in Galway, The Windmill in Brixton, The Railway in Southend on Sea, Folk & Rock in Malmoe, Alcatraz in Milan and their home club in Pavia: Spaziomusica.
Their sound has been compared to such diverse groups as Wilco, Whiskeytown, Soul Asylum, The Waterboys and Green On Red. "mercilessly mixing and matching roots, punk, folk and rock n roll music" (Rock Times, Germany). "Roots on the inside and grunge on the outside", according to one French reviewer (Le Cri Du Coyote France).
In 10 years they independently released 8 Full Studio Albums, 5 Eps and 2 Live "official Bootlegs" and featured guests and friends such as Mike "Slo Mo" Brenner (Marah, Magnolia Electric Co.), Chris Cacavas (Green On Red, Giant Sand, The Dream Syndicate), Tim Rogers (You Am I) , Joey Huffman (Soul Asylum, Georgia Satellites),  Antonio "Rigo" Righetti & Robby Pellati (Rocking Chairs, Ligabue) Amanda Shires, Sid Griffin (The Long Ryders), Michele Gazich (Mary Gauthier) and many more
Complete Discography
The Last Call (2008)
EP Vol.1 (2009)
Gypsy Child (2010)
Fathers & Sons – With Donald MacNeill (2011)
The Woody EP  Record Store Day EP (2012)
Better World Coming (2012)
Beyond (2012)
Left of the Dial Record Store Day EP (2013)
The Low & Lucky EP (2014)
Love Etc… (2014)
San Diego Serenade Record Store Day EP (2015)
Bootleg Series Vol1: Live at the Alcatraz (2015)
Bootleg Series Vol2: Live & Acoustic (2015)
Lowlands & Friends Play Townes Van Zandt's Last Set (2016)
Lowlands: The Collection  - Studio Cuts / Bits & Pieces (2018)